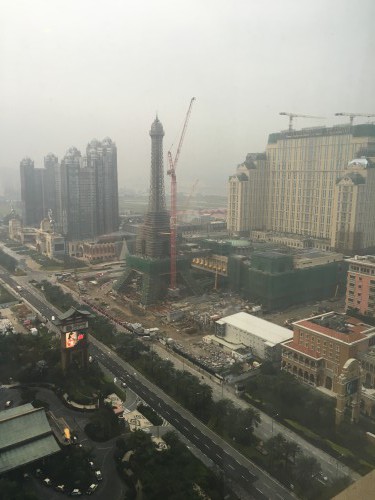 Conrad Macao, Cotai Central
After staying one night in Hong Kong I wanted to visit Macao and check out the differences between Las Vegas and it's Chinese copy.
I took a ferry from the China Ferry Terminal in Hong Kong.
A "first class" ticket costs 270,-HK$. First class means that you get a drink and something to eat during the ride. After 60 minutes we arrived at Macao Taipa Terminal.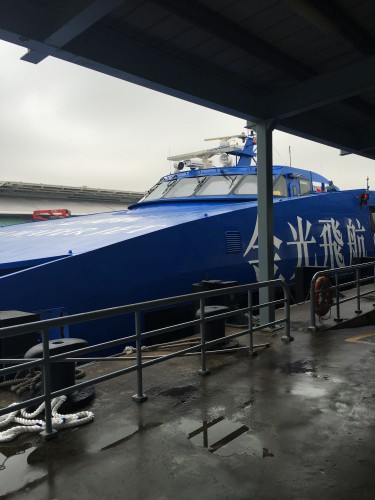 Ferry to Macao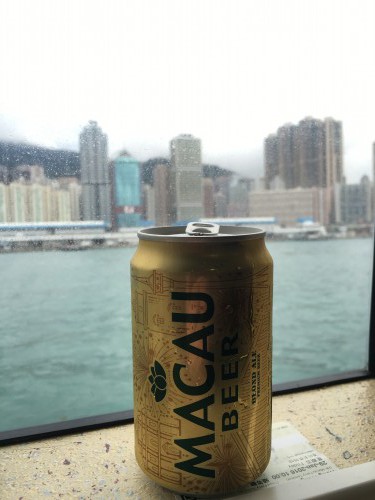 After passing immigration I took a taxi to the Conrad hotel. The driver didn't speak any English and he didn't seem to be understanding where I wanted to go.
Anyway he started driving and after a short 5 minute ride we arrived at the Macao Strip. My first impression was that the hotel towers seemed to be bigger than in Vegas. There are huge construction works going on everywhere. Many of the hotel-casino complexes have the same appearance as in Las Vegas only that in Macao everything is newer and bigger.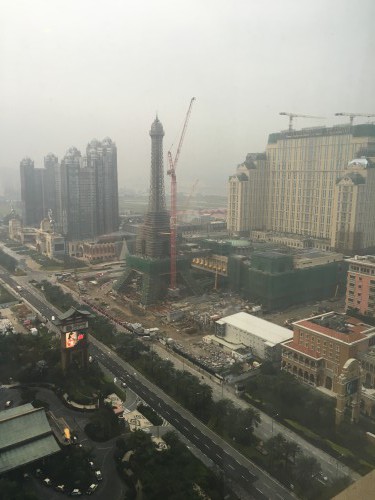 Cotai Strip view from Conrad
The hotel is located at Cotai Central which is the heart of the new built casino district at the Macao Strip. I will write about the casinos I visited in Macao in a separate post.
It was the first time for me to stay at a Conrad property. I had booked a king room city view. After showing my passport at the reception I was asked to go to the club level on the top floor for check in. Conrad brand belongs to the Hilton group and as I just achieved HHonors diamond status due to the last status match I got upgraded to a 156 sq.m. king premier suite. That's a great perk of the HH diamond status.
The suit was really awesome. It featured a spacious living room with dining area, a karaoke room, a big bathroom and a very spacious bedroom. It also was really well equipped with stylish and functional furniture.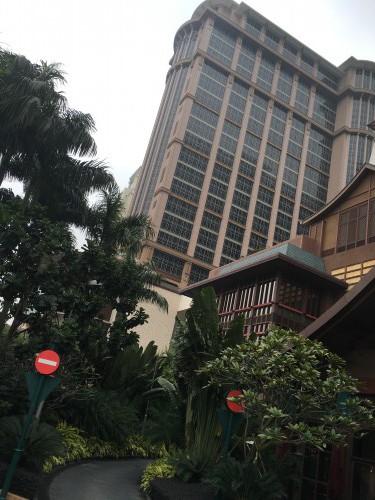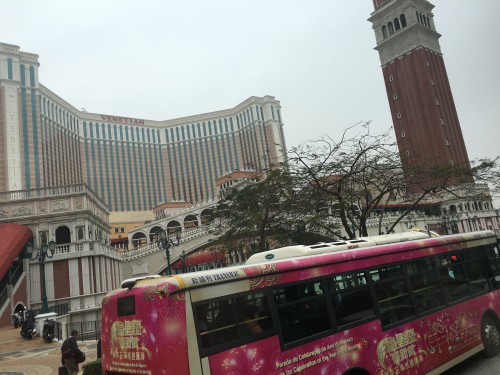 The Venetian Macao
The suite really had everything. Definitely a good base to start exploring Macao.
I also had access to the executive club level where they offered complimentary breakfast, afternoon tea and evening cocktail.
The staff was very attentive and the service was fantastic. Everywhere I went I was addressed with my name and everybody seemed to be trying to make my stay as comfortable as possible.
They booked my ferry ticket to HKG airport and the club manager even sent a personal letter with belated birthday wishes and a cheesecake to my room.
Bottom line:
The Conrad Macao is definitely worth a visit. It's central location at the Cotai Strip makes it a great starting point to explore the nearby casinos and resorts. I will come back for a longer stay.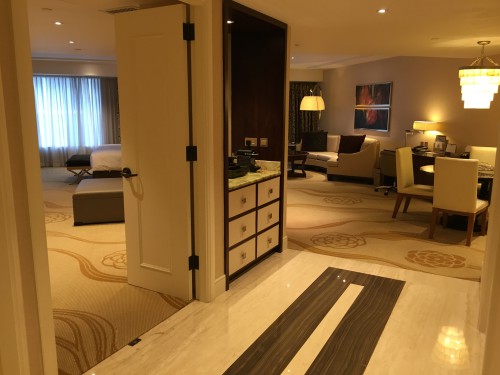 King Premier Suite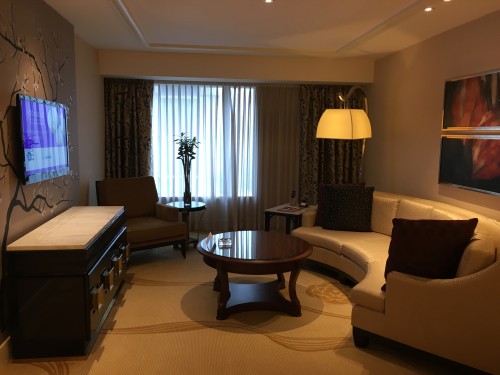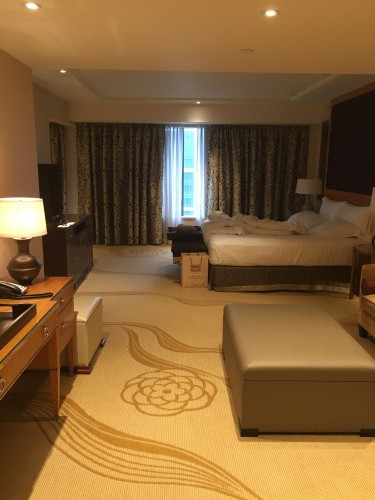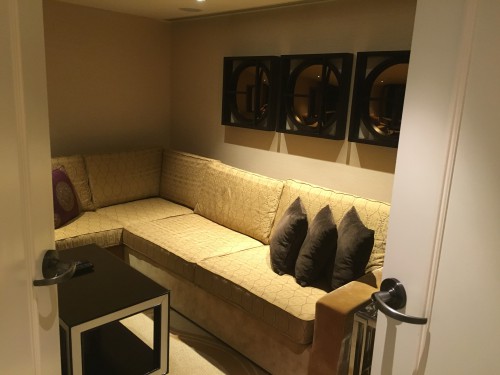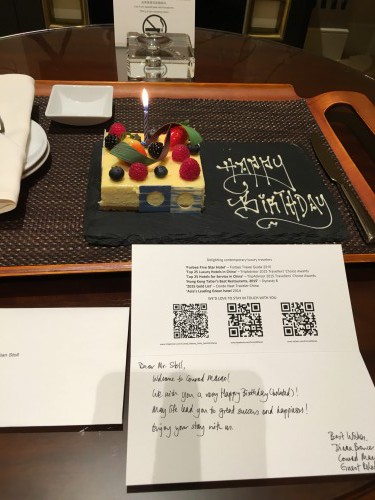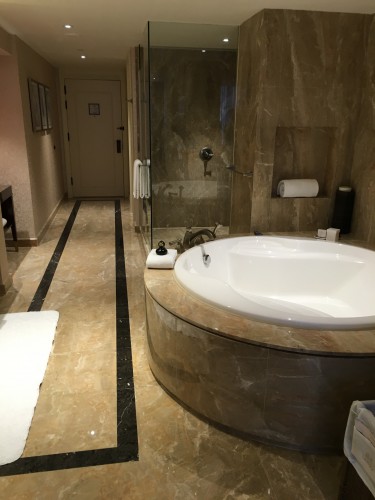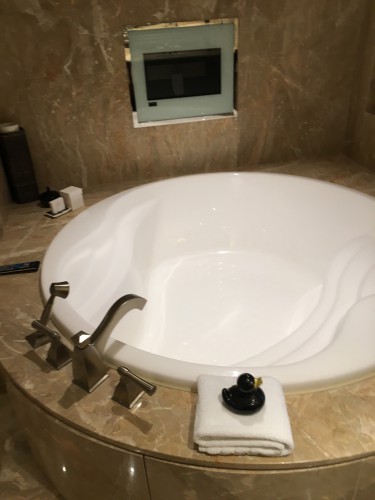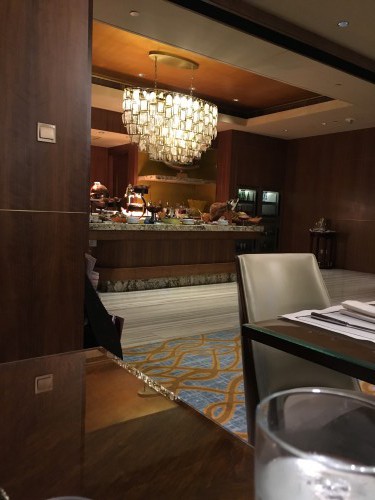 Executive Club at Conrad Macao