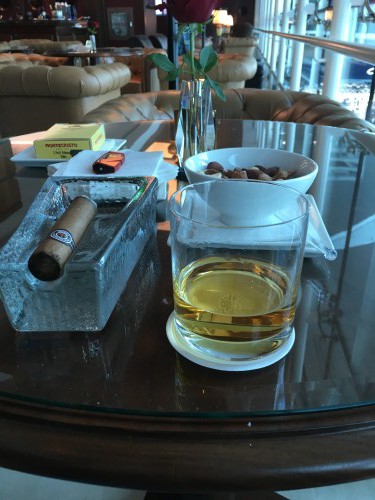 One night in Emirates First Class lounge Dubai
Dubai is an interesting travel destination because it is one of the fastest growing cities worldwide. So there's always something new to discover if you go there like once every couple of years.
My last visit to Dubai was in 2009. That's why it almost felt like I had never been there before with all these new buildings.
My flight from Chicago arrived at 7:00 PM and as I had a 14 hour stopover. I decided to go downtown and check out the Burj Khalifa. I took a taxi and went there. The building is really spectacular. I had a drink at the lounge of the Armani Hotel and asked a friendly hotel agent to give me a short tour through the hotel.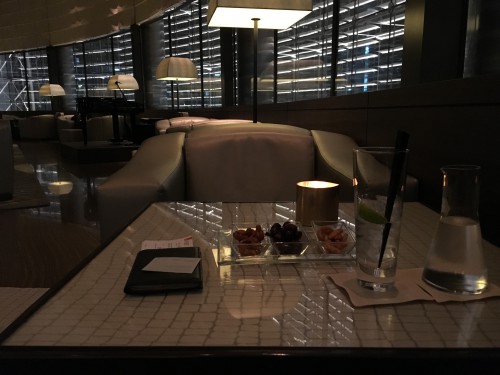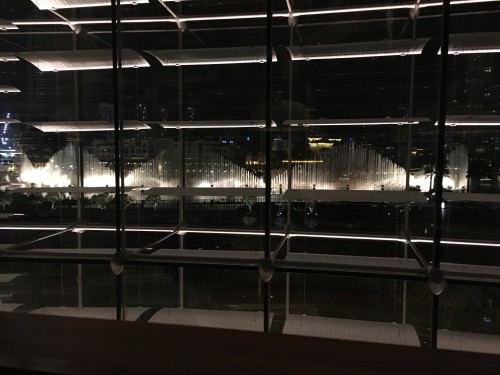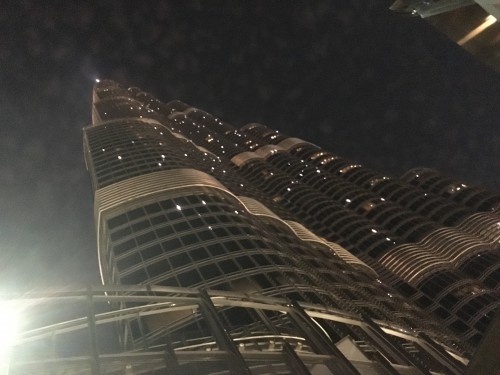 Burj Khalifa
Going back to the airport at 9:00 PM I had a very unpleasant surprise. The guy at the security check wouldn't let me in because my flight was scheduled to leave at 10:00AM and he said that he could only let me in 8 hours prior to departure. He said "come back at 2:00 AM."
How could that be? I just went out to go to the city for 2 hours and now I can't get back in? I could have stayed inside and nobody would have bothered me.
I was not amused! After some discussions he told me the only way to get in now would be a reservation at the airport hotel.
I realized that this guy wouldn't let me in at all if I kept discussing.
So I booked a room at the airport hotel for 220,-€ and showed him the booking confirmation.
Finally he let me in!
My intention was to spend the night at the Emirates first class lounge which wouldn't have cost me any money but now I had booked a room at the airport hotel for 220,-€! Refundable only until 6:00 PM at the day of arrival and it was already close to 10:00 PM.
As I had plenty of time I decided to go to the reception and try to cancel the room.
Fortunately the receptionist lady was very kind and after a 5 minute chat my booking was canceled without any extra charges and I could finally go to the lounge.

The first class lounge at the A concourse is just overwhelming! It has to be the biggest lounge I've ever seen. It is one level above the normal concourse so you can access every gate directly from the lounge. The lounge has 2 large restaurants and several smaller dining areas, showers, sleeping areas, a spa and 2 cigar lounges. There also are several duty free stores. It's just huge! No matter where you sit down some nice staff will be there in a minute to bring you anything you want.
I had dinner at 11:00 PM, took a shower and picked a nice place in the sleeping area.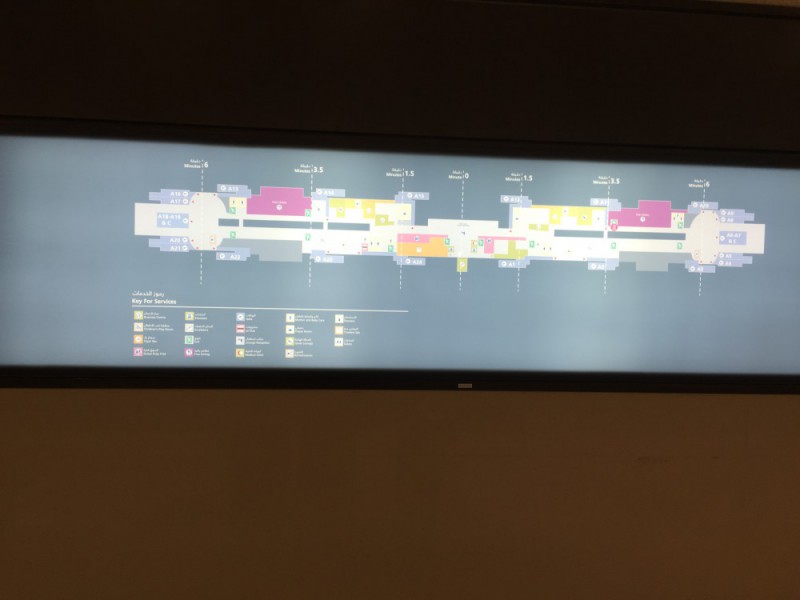 Plan of the Emirates First Class Lounge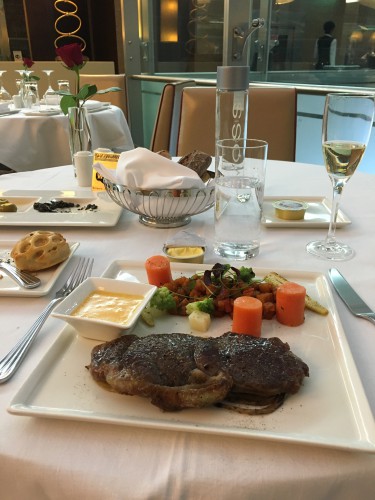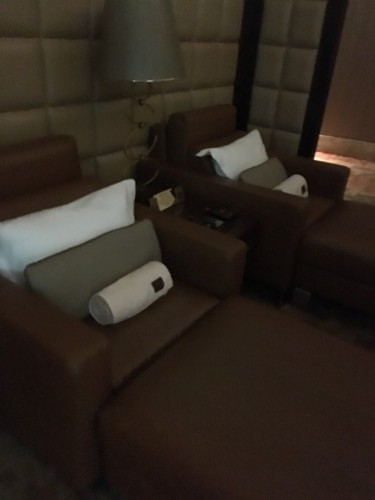 Sleeping area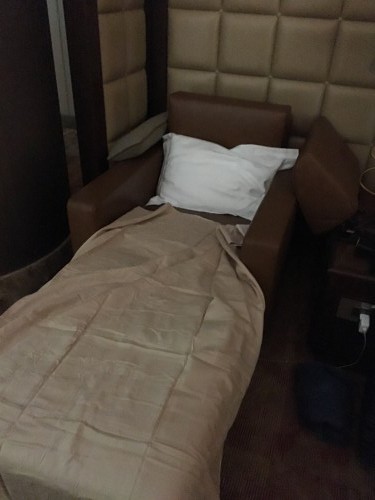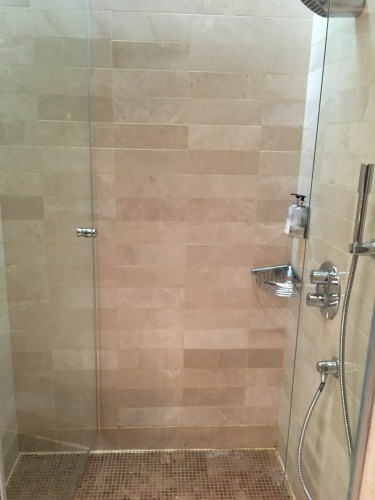 After maybe 5 hours of sleep I decided to get up and explore the rest of the lounge. I visited the spa for a complimentary neck and shoulder massage. Then I took a seat in front of a tv to watch the news and ordered some tea. After the tea I had what I call an "alternative" breakfast. That means a Montecristo cigar and a glass of 21 year old Glenfiddich whiskey in one of the cigar lounges. The remaining waiting time passed by quickly and boarding for my flight began at 9:20 AM.
I was really excited because this was my first flight in Emirates first class on an A380. So I took the elevator to the upper deck level and walked down the aisle with a smile on my face. Maybe I also was a little bit tipsy from the whiskey breakfast though.
Hong Kong here I come!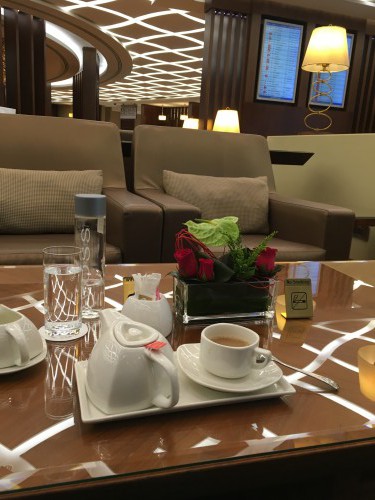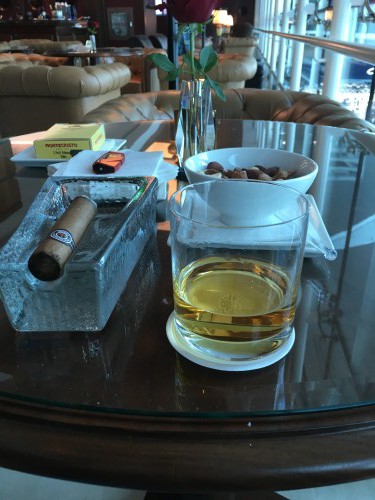 Cigar lounge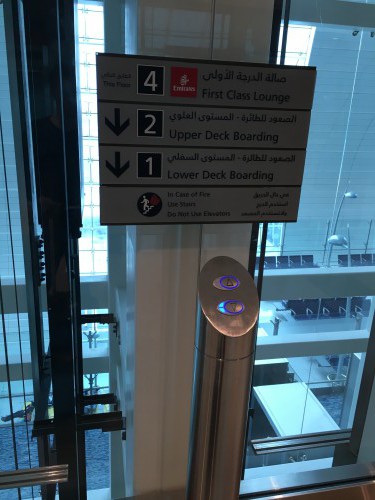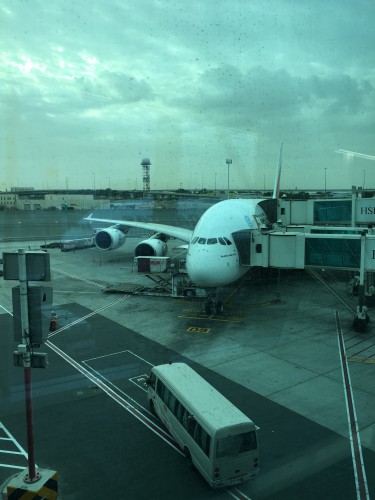 Gate A16