Planning my around-the-world birthday trip
Currently I'm planning an around the world trip for my 35th Birthday next year. I've always wanted to go on such a trip and now I'm not willing to wait any longer. To make it really special I want to do all flights either in first or in business class. I'd also like to visit some casinos that I haven't been to so far. Macao would be great to see on a stopover.
Of course for a regular booking this will require quite a lot of financial resources (which I don't really have at the moment). But anyway I gathered 5000,-€ and some miles on Lufthansa Miles & More and AmEx membership rewards to get going. Now I'll see how far that gets me on my way first class around the globe.
I will post my preparations for this trip here and also make some reviews once I get started. I decided to get the flights first to build the framework of my trip and then book the hotels for the required stays.

Here is what I have booked so far:
Firstly I was looking for award flights on Lufthansa first class. There is not really a lot of availability but after a while I found award space on a flight from Frankfurt to Chicago in first class on a 747-8i for 85.000 Miles & More miles + 290,-€ tax and fuel fee. I booked the flight. Number 1 done!
Next my intention was to get a flight across the pacific ocean to Hong Kong. Again it took me some time until I discovered an Alaska Airlines offer to purchase miles with a 40% bonus. Through Alaska Airlines you can book award flights with Emirates. There was an Emirates flight from Chicago to Hong Kong with a stopover in Dubai for 100.000 milage plan miles plus 19,-$ fee. The segment to Dubai was in business class on a 777 300ER and the flight to Hong Kong on an A380 800 in first. So this was actually the other way round but I have never flown Emirates first and business class so I decided to book it. This transaction costed 2.000,-€ for 100.000 miles + 19,-US$. Compared to the price you have to pay if you book the same flights on the Emirates website, which is 9.383,-US$, that's a great deal! Flights number 2 and 3 booked!
Now I had to find a flight from HKG to the U.S.
Besides some options through Air Canada for Asiana flights there are many direct flights operated by Cathay Pacific. Air Canada miles are hard to get if you don't have an American AmEx credit card. With my German AmEx I can't transfer membership rewards points to get Air Canada miles. So I chose to call Alaska Airlines to ask for a Cathay Pacific award flight payable with Alaska milage plan miles. And luckily there was one seat available in business class on a 777 300ER to New York JFK for 50.000 milage plan miles + 20,-US$ fee. That means I spent another 1.000,-€ to buy these miles and flight number 4 was booked!
Now that I have already booked 4 flights which bring me around the globe I just had to find a way back to Germany from New York. I heard that Singapore airlines has an amazing first class so I started searching. Singapore Airlines award space isn't easy to get through other airline's bonus programs but there is a better chance to book award flights on their own Krisflyer program. They have a flight from JFK to Frankfurt on an A380 800. The cheapest award in First/Suite class costs 57.375 Krisflyer miles. The good thing is that I can change AmEx membership reward points to Krisflyer miles at a ratio of 5:4. So I called Singapore Airlines and the agent put me on the waiting list in suite class for this flight. He said that I'd get a confirmation once the award has been released and that this could be 1 or 2 months prior to departure. So in case I don't get this flight I still have time to look for another one. Fingers crossed that I'll get it!
Well this is what I have done so far. Now I'll start thinking about the hotels I will stay in. Should be nice 5 star hotels for a good price. I still have a budget of 2000,-€. If anyone has tips or recommendations I'm open for all suggestions!
I have stays in these cities:
Chicago
Dubai
Hong Kong
Macao
New York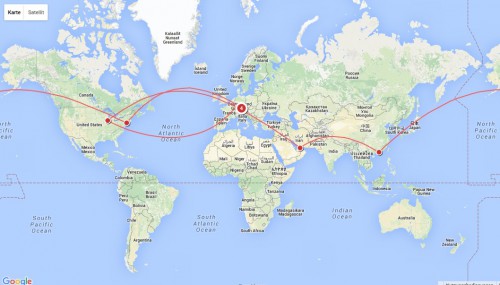 Routing on my around the world birthday trip
These are the regular retail prices for the flights I have booked: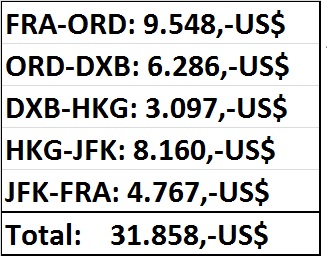 Once I have done my hotel selection I will post the details. Thanks for reading and stay tuned!